Since before the new website rolled out several weeks ago, I was craving getting my new logo on something. I really wanted to find an affordable, yet quality place to get some business cards printed. We're so excited to be going to a blogging conference this fall and those are supposed to come in handy. 😉
Enter Basic Invite.
Back in February, right when we were beginning the re-launch process, they contacted me to request I review their invitations.
Well, I said, I don't have a wedding to plan, you're 7 years late. Bridal Shower? Same deal – looong gone. Baby Shower! Nope, almost 3 years late for that. Graduation, ha. I was home-schooled and the tech school I went to had a small dinner for us in a closet sized, dark room without windows (I'm not kidding, it was a closet) when we graduated. I won't say how many years late for that. 😛 Baby announcement? Over a year late for my latest opportunity. So what to do?
I took a look at their website and was pretty impressed. Some companies think they're something when they're really not, but these guys looked legit.
However anyone can pay (big bucks) for a professional website.
And I still needed a reason to give them a try.
Enter my logo-on-something-desire.
They make business cards! (And business stationery. And postcards, welcome kits, and brochures.) Without a doubt, we were doing business cards.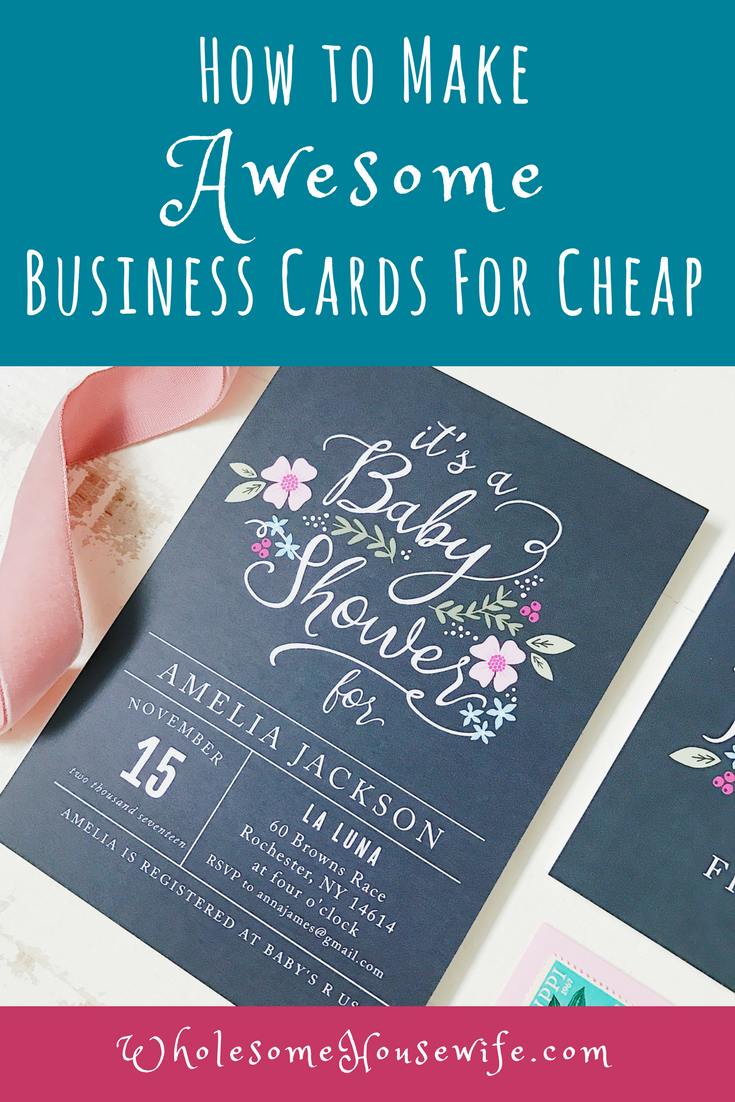 *This post is sponsored by Basic Invite. Even though a product and/or fee was provided, I do unbiased reviews of any product sent to me. The trust of my readers is infinitely more important to me than a sponsored post. If you want to read some semi-boring stuff (it's really not that bad) 😉 please see my disclosures.*
Ordering
This was *fairly* easy. Upload the design, pick the options you want and voila, done.
We hit a snag because the formatting didn't jive. We used Canva to design our business card and the size Canva said was good to design, ended up stretched too far on the Basic Invite. It made my design 'fall off the edges'.
I chatted with a support person and they first directed me to buy the $10 review where their designers would look over my card and make sure it was flawless. Um, no. So she asked for some info, took a look at it herself and gave us the dimensions to make it fit.
Hubby (my IT department) took care of all of that for me, submitted it and they were on their way.
They Came!
I love getting the mail when you're expecting something. Except when you get the mail and it's not there and you know it's going to be another 24 hours of waiting. 😛 God forbid it be a Saturday which makes it 48 hours!
It took less than a week to come once we submitted the order, which was awesome because they quoted 7-10 business days.
They came neatly packaged in two tightly wrapped wads, 1 of each kind. We bought the signature matte and the smooth coated.
I was pretty impressed with the quality and sturdiness of the cards.
The matte:
Has a more creamy tone to it. Thickness is adequate.
The smooth-coated:
More vibrantly white. Fonts look more filled in. The front of the card with my logo on it looks a little 'matte' to me.
Can you guess which is which? 😉
Interesting Talking Points About Basic Invite
For anyone interested in other options than just business cards, here's a good overview of the company. They do so many varieties of formal invitations I didn't even know that many existed. 😛 I wish we had used them for our wedding invites or thank you cards! If you're one of those Pinteresting mamas, they would be awesome to use when you create party invitations for your spoiled kiddos. 😉 Also:
Almost Unlimited Colors – Basic Invite is one of the few websites that allows customers almost unlimited color options with instant previews online. Once you select a design you can change the color of each element on the card to over 180 different color options so you can make sure the card is exactly how you want it down to the littlest detail. This is what we feel sets us apart from almost any other online stationery company and is what we feel is our biggest draw.
Custom Samples – Basic Invite is one of the few websites that allows customers the ability to order a printed sample of their actual invitation so they can see exactly how it will print as well as the paper quality before they ever have to place their final order.
Over 40 Different Colors of Envelopes – Basic Invite is just as colorful with our envelopes as we are with our invitations. Customers can choose from over 40 different colors when it comes to their envelopes so that they can make their invitation stand out even before it is opened. All of our envelopes are peel and seal so the envelopes can be quickly and securely closed.
Address Capturing Service – Basic Invite offers an address capturing service that allows customers to simply share a link on Facebook, Twitter, Instagram, or any other form of social media to request their friends and family's addresses which will be stored in the customer's account and can then be selected during the design process. Basic Invite offers recipient address printing at no cost on all Christmas card orders.
Foil – Foil holiday cards are available in gold, silver, and rose gold. Customers can choose flat or raised foil on all of Basic Invite's foil designs.
Right now Basic Invite is offering 15% off with coupon code: 15FF51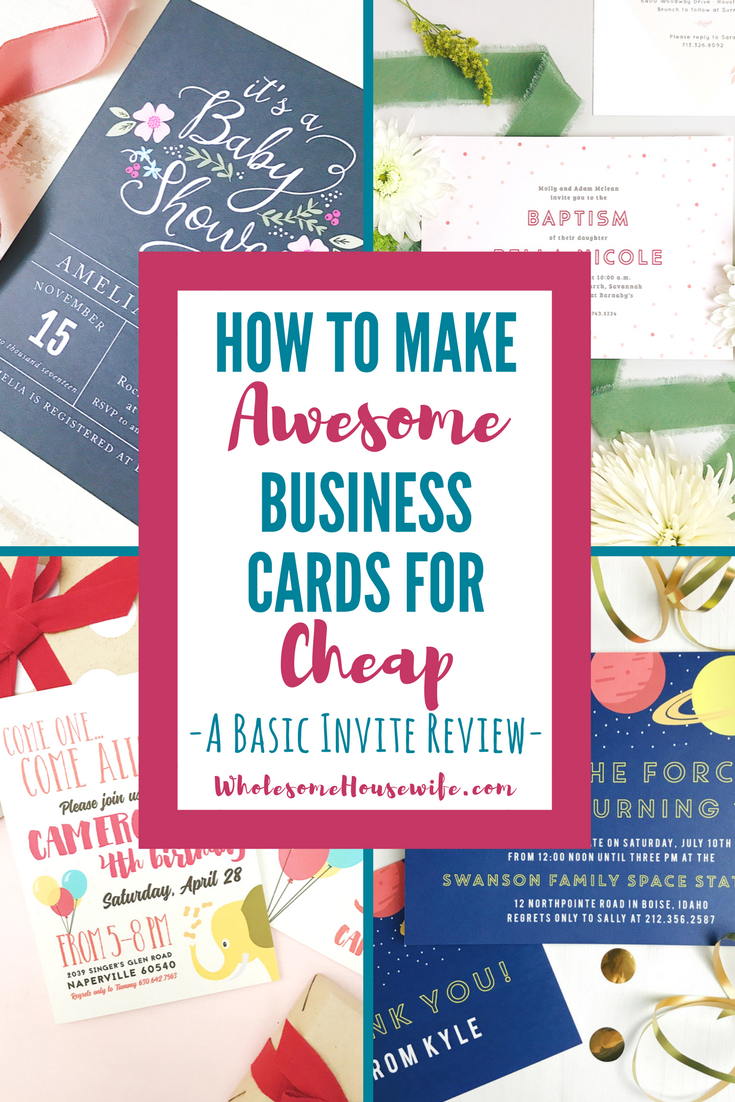 In Conclusion
I would use them again for more business cards, and possibly some business stationary. Once we got past the hiccups with the design fitting right, it was smooth sailing. Their chat is open and pops up even if they aren't there (they tell you if not) which can get a little annoying. HOWEVER, when I needed some help someone was right there. Which is pretty good customer service, if you ask me.
Maybe there are cards somewhere cheaper, however I can vouch for Basic Invite producing professional quality cards and being an overall nice company to work with.
Who do you use for your blog/business stationary needs?