Dear Wife of the Broken Man,
You have also been weighing heavily on my heart.
So, just like I talked to your broken, unfaithful man and the unprincipled woman he's with, I want to tell you a few things.
First off, I am so sorry this is part of your story.
My heart hurts for you and I can only imagine the depth of pain that is ever-present now. If you have children, I know your burden is even greater. Trying to determine who is old enough to know what, how to tell them, how to do the right thing amidst all this wrong only adds more heartache.
It's ok to grieve. Something that was yours alone was taken away without your consent.
Secondly, don't let this define you. I know that's something for me to say. I have never been betrayed by the man who promised me forever.
But I have been betrayed. They were close. They were the only ones I was convinced loved me, the only people in the world who knew me, and in a moments notice it was gone. I know what it is to let something negative, something horrible, define me.
So, dear wife of the broken man, please know:
You are more than a woman who was cheated on.
You are more than the wife of the broken man.
Your worth does not depend on what someone in your life does.
God loves you. You, in all your imperfection. He loved you when your life looked perfect, and He loves you when it doesn't. He did not want this to happen to you, but He can bring good out of it.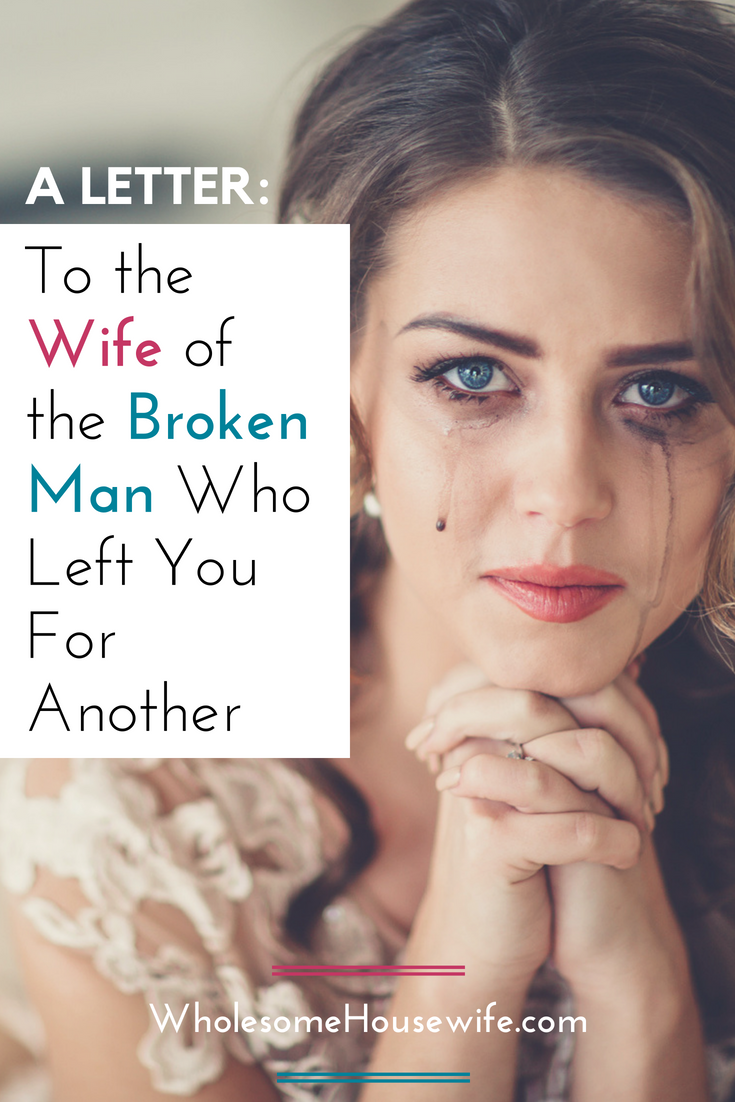 The Wife of the Broken Man in my life
Years ago, I sat on the steps of the front porch of our first house. It was a hot day, late afternoon.
There was a huge knot in the pit of my stomach and I fretted, moving around a lot.
The gravity of the situation was enormous. As I listened to my friend talk through the phone, I saw two different futures, two different outcomes for so many innocently involved.
I fought to keep the anger from my voice, and prayed silently for wisdom and words.
I want to tell you what I told my friend that day:
What your husband is doing is wrong. There's no excuse for it.

You have every right in the world to be angry, to feel betrayed, to keep him at arms length.

Things you've done may have contributed to negativity in your marriage, HOWEVER they can never carry the blame for the unfaithful actions of your husband.

We are going to pray. God is bigger than this.

God is bigger than the weight of the sin that is drowning your husband.

If you will hold your heart for him, and wait on God, He can turn this around. He can convict your husband of his sin, pull him out of the filth he's in and give him a repentant heart.
Who knows how many will see your testimony of faithfulness and commitment, even to someone this broken, and in turn be saved. Who knows how many will see your situation, watch how mightily God moves, and their marriages also be saved.
You intended to harm me, but God intended it for good to accomplish what is now being done, the saving of many lives.
Genesis 50:20 NIV
What was meant for evil, God can use for good.
Wife of the Broken Man…
When your husband repents, you should expect from him:
transparency – no secrets, no unknown passwords to computers or phones, no unaccounted for time away from home or work
accountability – he should freely tell you anything you need to know, & be in counseling with a Christian man faithful to his own wife
understanding – what I did was wrong and it hurt you severely
hard work – to repair the severed trust and broken relationship
acceptance – before any physical relationship resumes, there will be STD tests
You should NOT expect:
the pain to go away immediately
to hold a ransom over his head of unforgiveness
to bring it up all the time as a reminder of his sin
This is NOT going to be something you just 'get over'. Trust has to be rebuilt, brick by brick.
But it is something God can heal.
It can be done with the strength God provides through His son Jesus Christ.
Putting It Into Perspective
Remember that Christ died for your sins.
He also died for your husband's.
He promised to remember each one of those sins no more, once we repent from them. How can we remember the sins against us, when God can cast away and remember no more the many that we have against Him?
Then he adds: "Their sins and lawless acts I will remember no more."
Hebrews 10:17 NIV
Bitterness is something that grows quickly and heartily in the fertile soil of unforgiveness. God has strong words to say about it.
Make sure that no one falls short of the grace of God and that no root of bitterness springs up, causing trouble and defiling many.
Hebrews 12:15 CSB
Let all bitterness, anger and wrath, shouting and slander be removed from you, along with all malice. And be kind and compassionate to one another, forgiving one another, just as God also forgave you in Christ.
Ephesians 4:31-32 CSB
Bringing up the 'D' word
Dear Wife of the Broken Man, I don't expect you not to give up on your marriage.
In fact, the only real permission in the Bible for divorce is after the sin of adultery.
However, I implore you not to give up on your marriage.
This night, this darkness you're in is a darkness like no other, yes. But joy comes in the morning and I stand in complete awe of how faithful God is to His word. He WILL bring good out of this situation. And He WILL help you through it.
I want you to know, God was faithful to my friend. He helped her, and her children, through that terrible time and He answered our fervent prayers. If there was ever a time we could 100% know the will of God and pray believing for what we ask, now is the time. God created marriage between one man and one woman and He hates divorce.
But if it does come to divorce – if your husband is unrepentant, refuses to acknowledge his sin, and do his part in fixing your marriage, then you can be sure that God will help you through it also. You can also be sure that justice will be done someday for the breaking of your marriage.
Marriage should be honored by all, and the marriage bed kept pure, for God will judge the adulterer and all the sexually immoral.
Hebrews 13:4 NIV
So on that note, I stand with you, believing for a miraculous healing for your marriage.
Hugs, and many, many prayers,
Tiffany