I come from a family of servicemen. My dad served in WWII and was a POW of the Germans for about a year. Several of his brothers also served. My husband's uncles were in the service and his brother served in Afghanistan. Many people interspersed in my past and present have served this great country.
Even after these very difficult years of poor leadership, terrible financial stewardship, and severe moral decay, this country isn't too far gone for saving. I'm not quite sure what it will take for God to finally turn His back on America as a whole, but I do know He has many people here and He doesn't forsake His own. Many of His own serve or served in our Military.
My dad had many stories of being drafted, boot camp and being labeled a sharp shooter, shipped off to Italy and North Africa, his capture by the Germans and imprisonment – starvation, finding a whole onion and eating it like he was a king, quickly learning words and phrases in German. My brother-in-law saw many, many things I can't even imagine and continues to faithfully serve this country, giving up precious time with his family to do his part in protecting us.
Many people like to complain about candidates and are quick to say they will leave the country if so and so gets in. If we all who felt that way actually followed through with that threat, what does that make of the ultimate sacrifice SO MANY made for this country?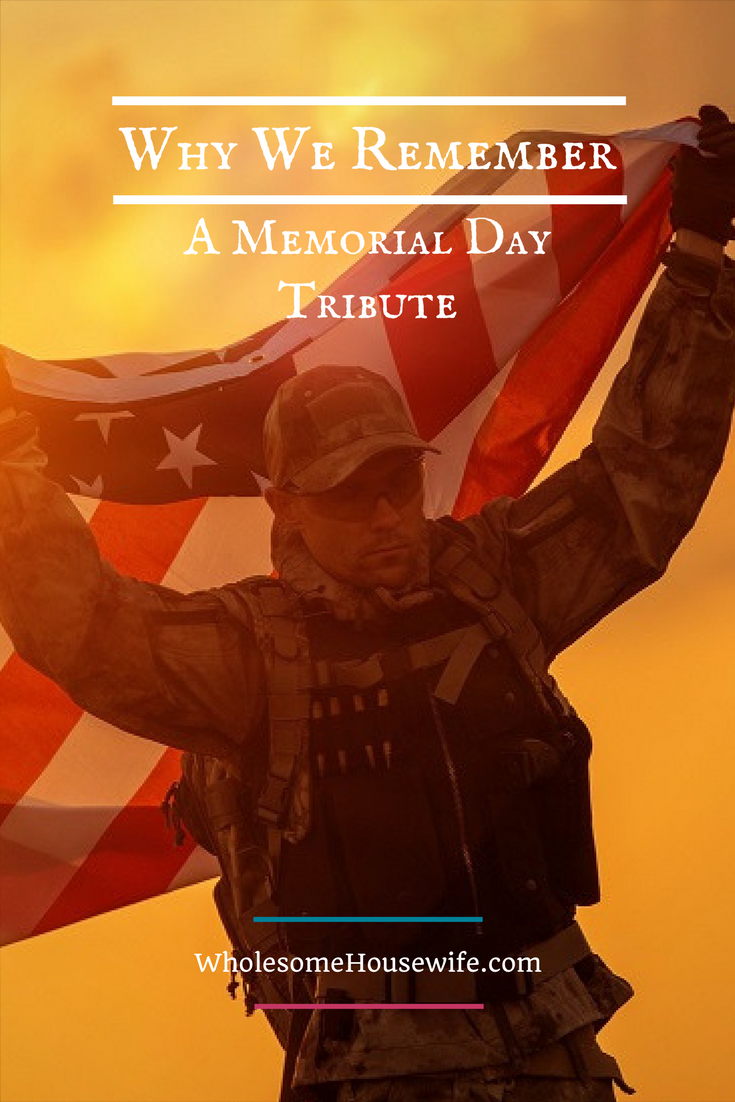 Some gave all.
All, meaning their lives. The time they could've had with loved ones. Weddings, graduations, births of precious children they might not even have had the chance to meet. Wives who waited for them for so long, hanging on to each day they didn't hear bad news, praying they would get to welcome their man home one day. But that day never came. Children who wanted more than anything to have Dad sitting next to them helping them with homework, or running around in the yard playing tag football, or just there, safe. Parents who prayed they would never have to bury that precious child, who was going to give them grandchildren one day, who would've loved on and taken care of them in their old age. But those things never happened because that life was cut short – in honorable service to the country they loved, for the freedom they knew was not and could never be free on it's own. 
God bless those men and women. I, and every other person in this country, owe you a debt of gratitude that could never be fully paid.
Encouragement for those who serve/served
John 15:13
Greater love has no one than this, than to lay down one's life for his friends.
Proverbs 10:7
The memory of the righteous is blessed, but the name of the wicked will rot.
Joshua 1:9
Have I not commanded you? Be strong and courageous. Do not be frightened, and do not be dismayed, for the LORD your God is with you wherever you go.
Psalms 46:1
God is our refuge and strength, a very present help in trouble.
I hope that this country gets back on track. I can't imagine a better place to live, raise my babies and love my husband. Even with things as messed up as they are, there isn't a more welcoming country on the face of the earth, a place that puts more hope in the hearts of men when they dream of a brighter future for their children.
Thank you, from the bottom of my heart, to all who have served, and more so, to all who gave their lives and bodies as a testament to how dearly they loved this country and wanted her to succeed. May God richly bless and keep you!