Someone took advantage of you.
It's been years, 6 even, but the pain still burns. It's with you always. Sometimes it's so faint, you smile and laugh and think you have a happy life. But then the present pain sparks and the flame reignites the old embers. It's hot, and being so close to the fire all the time makes you frustrated and angry and ungrateful.
You thought the world of them. You spent your life wanting good things for them, constantly begging God to give them good things, saying and writing and texting and emailing words of love and affirmation to make them feel better, praying for financial gain for them so 'things would be better', then spent years and years of your adulthood giving them every penny, not expecting or getting a thing in return. Then when you want something for yourself, they drop you like a hot potato after a whirlwind of outspoken rage, hate-filled words, and convincing that there's nothing worthwhile left in you.
You got away. You made a life for yourself. You have so many people that love you and would never even let the thought of taking advantage of you cross their minds. You have a husband who would do anything for you, loves to make you smile and laugh, and a handful of children who smile and giggle and reach for you when they need comfort. But when these moments pop up, you can't smile, or laugh, or comfort those sweet littles. Because right now your heart hurts, and the only thing you feel is anger and resentment. It's easy to snap at Hubby and put the wall up so that those innocent baby giggles can't reach your heart and put out even the tiniest flame.

That's a dark picture, isn't it? But that's how it feels – dark, when you refuse to forgive someone. Unforgiveness is the building block of bitterness. And bitterness, once rooted, turns everything it touches into ugly, wretched beings.

Matthew 6:14-15
"For if you forgive men their trespasses, your heavenly Father will also forgive you. But if you do not forgive men their trespasses, neither will your Father forgive your trespasses."
Mark 11:25
Whenever you stand praying, forgive, if you have anything against anyone, so that your Father who is in heaven will also forgive you your transgressions.
Ephesians 4:31-32
Let all bitterness, wrath, anger, clamor, and evil speaking be put away from you, with all malice. And be kind to one another, tenderhearted, forgiving one another, even as God in Christ forgave you.
Hebrews 12:15
Looking carefully lest anyone fall short of the grace of God; lest any root of bitterness springing up cause trouble, and by this many become defiled.
1 John 2:9
He who says he is in the light, and hates his brother, is in darkness until now.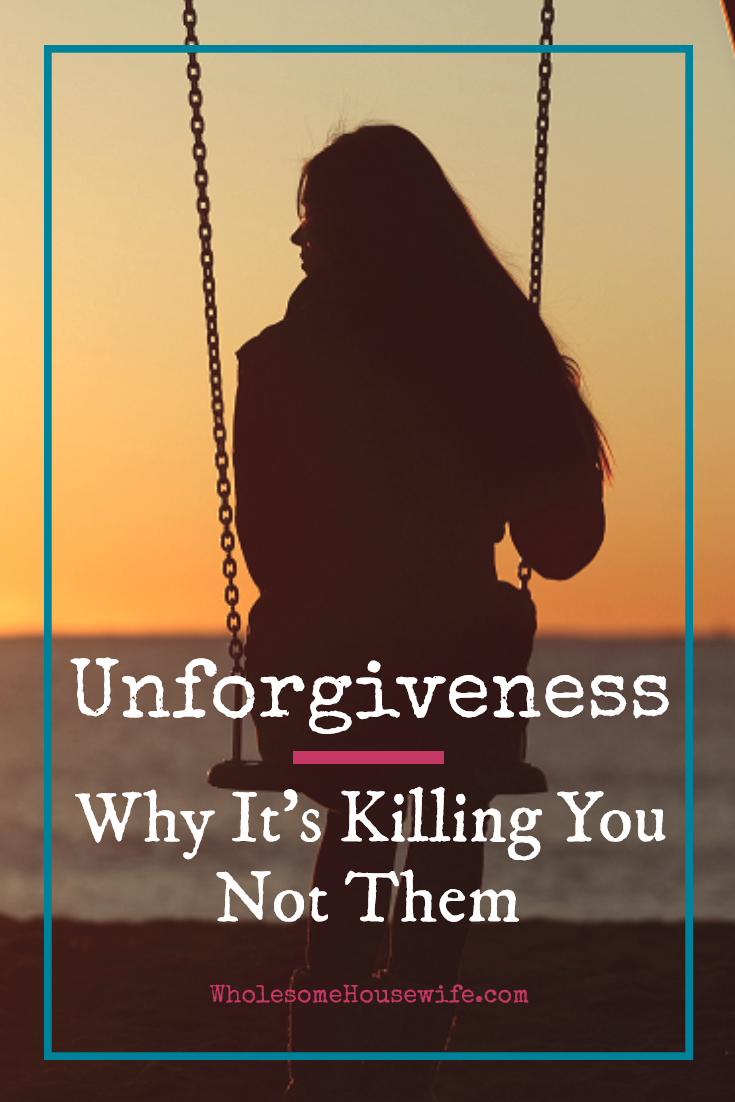 These are hard verses – hard to understand, and hard to follow. Our human nature seems to include holding grudges and believe you me, I can hold a grudge with the best of them. It's easy. You just keep replaying the event, the hurt, the emotions, the how could this be, the what could have beens and the what should have beens. Even though the years have made it easier, I still have a hard time with all of them. Add a baby and that only adds to the list. He should have this budding relationship with them. We all should have shared these precious moments and firsts and advice and baby pictures and stories of childhoods and holidays. And it goes on and on and on.
But it's not that way. And your bemoaning it isn't going to change anything. I'm not an expert at forgiving, in fact, this whole post might just be for me. It most likely could be one of the hardest things to do in life, especially as a Christian, when we know how important it is. But it is possible.
Philippians 4:13
I can do all things through Christ who strengthens me.
Those situations above were horrible. No one is denying that. But they can be forgiven. Just like any situation you've been through. What does the verses in Ephesians say to do? Be kind to one another. Unforgiveness makes you miserable and unkind, angry and lonely. Be tenderhearted. Bitterness hardens your heart. Forgiving one another as God forgave you. Think of your sin. It put Jesus on the cross and made necessary His suffering. He didn't HAVE to forgive you. Imagine the size of grudge He could have held. But He didn't (hold a grudge) and He did (forgive you).
Let it go. Pray and ask God, beg Him earnestly to help you uproot the bitterness from your heart and live freely and happily, being thankful for all the blessings you've been ungrateful for in the past. It's possible, Friend. Not only is it possible, but it's wonderful and liberating. They might not change. They might never ask you for forgiveness, but at least you will be free from the continuation of the abuse, and you will have the freedom to smile and laugh and love on your family without the pain of the past nudging in and ruining your present.
You can do it! Reach for it. Pray for it. Seek Christian help for it if need be. And consciously do it, everyday. I will be right there with you, fighting to do the same thing. <3