To the Unprincipled Woman deep in adultery,
I've had you on my heart for a while now.
I'm sure you don't get a lot of support or encouragement in your new role. Even those with the lowest of morals seem to look down on you.
So that's not what I want to say to you right now.
First, I want to say, taking you out of the situation you're in, God loves you.
His Son, Jesus, knew you would do what you're doing when He willingly hung on the cross, dying a miserable, horrible death for our sins – yours just the same as mine. He promised to wipe away the blackness of your sin, same as He promised He would for every person who chooses to follow Him.
There is forgiveness and renewal to be had, if you would just choose it. (Feel free to message me about it).
Secondly, I want to bring some reality to your situation, because in every case I've seen like this, there's never any of that in it, for either party.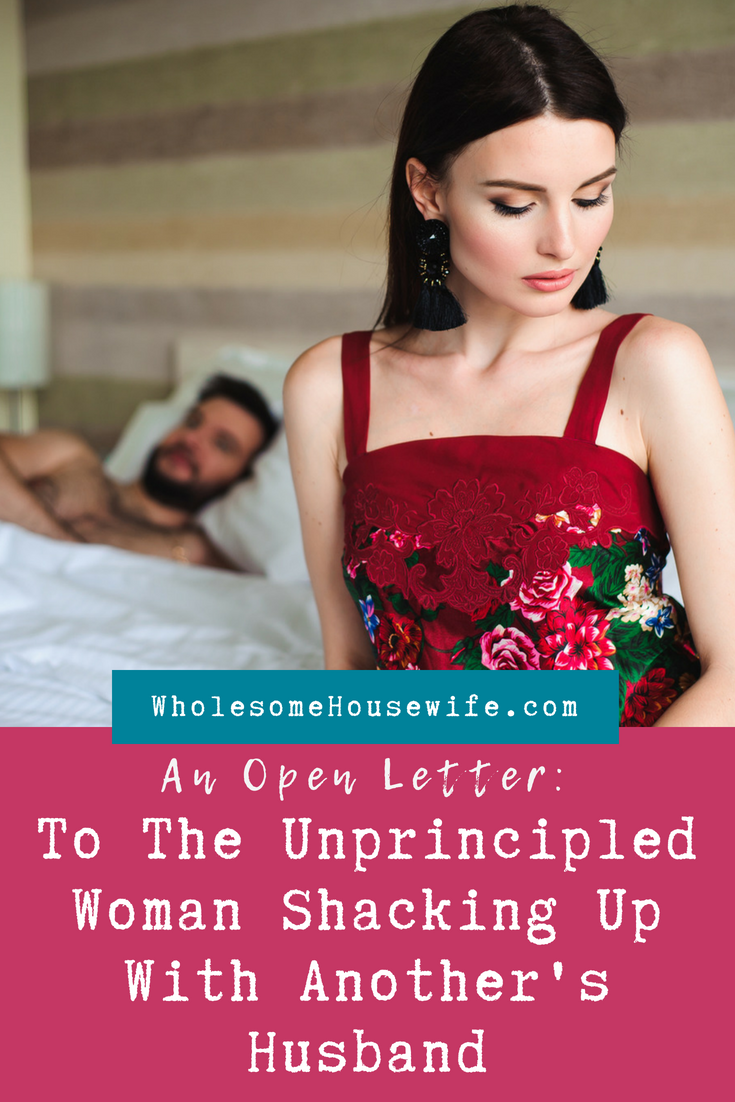 So, Unprincipled Woman,
Remember the man you're with:
Made a public, verbal commitment to:

love

honor

cherish

and support a DIFFERENT WOMAN through:

sickness and health

good times and bad

for the REST OF THEIR LIVES

What makes you think he's going to love, honor or cherish you?
I'm sure he's said things in the heat of the moment you hang onto, pretending this could be the real thing, but there's no weight behind any of it because there is no commitment.
There's zero incentive to be faithful to you, dear woman.
No one is even expecting him to be faithful to you.
Why?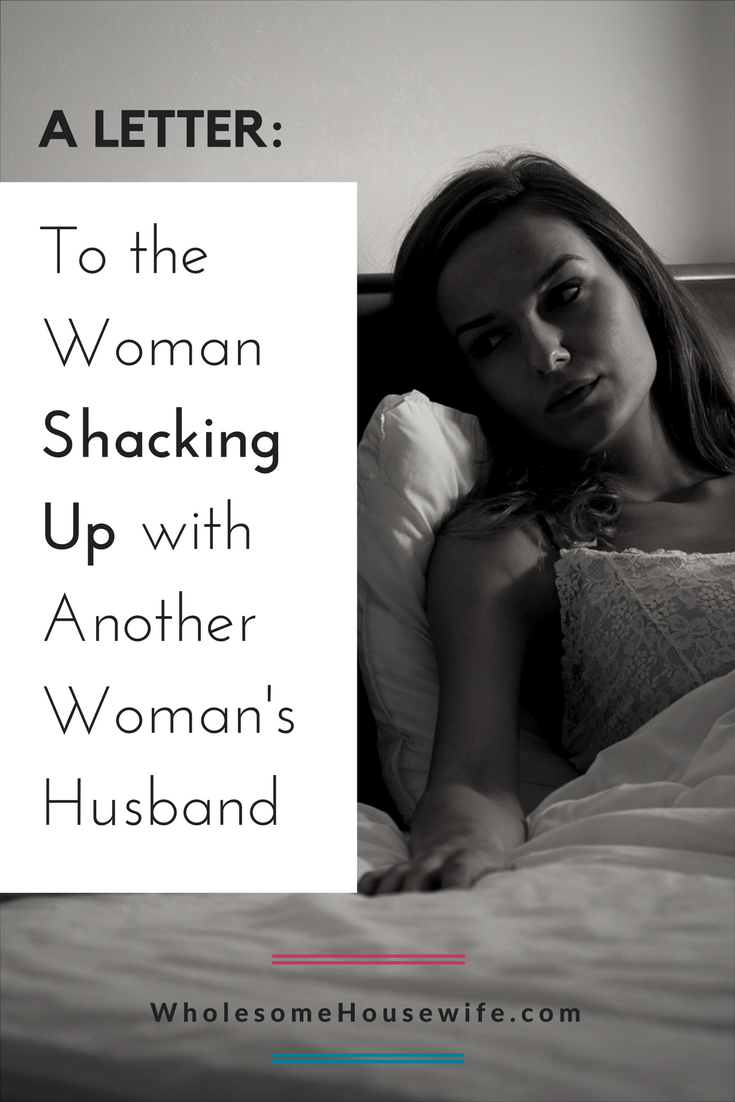 Because you are not his.
You are a cheap substitute for the wife of his youth. A fill in. A byproduct of a mind that lusted for something he shouldn't have.
You are disposable and expendable and a willing pawn in a game someone else is playing.
You don't have to remain an Unprincipled Woman:
Repent, ask God to forgive your sin

Find a Bible believing church and get involved in a ladies group or Bible study

Wait for the one who will make the public, verbal commitment to love, honor and cherish YOU for life

And then make that same commitment to him and do your part in making your marriage good for life
God has the BEST in store for those who love Him, and this situation is the opposite of His best.
But it's not fair.

I know it's easy to listen to and sympathize with the sad story the man gave you.
It's easy to rationalize that his nasty wife was a husband-abuser who berated, belittled, nagged and complained at him. He was made to feel like less of a man, a step parent to his own children. He couldn't get a word in, couldn't do a thing right. The man spent his life working only to never be appreciated or respected.
It's really sad (and that's NOT how marriage should be), but to that I say: SO. WHAT.
That is not YOUR concern.
Their marriage was on the rocks, and instead of you staying out of the mire, you added filth between them that will take a long, long time to scrub away and will forever leave a stain.
Hope For Healing
God can and does miraculously heal marriages. He's even healed marriages that have been nearly destroyed by the physical and emotional unfaithfulness of adultery.
I've seen it and it's beautiful and faith-building, but infidelity is something that never, ever goes away from the history of a couple.
You don't belong in the situation you are in.
There are options to get out. Don't stay there with that man. Make him accountable to the commitment he made. Possibly make an appeal to his wife for forgiveness for your part.
Then get away from the entire situation. They have lots of work to do. It's not up to you now whether they make it work or not.
It is your responsibility to take control of your life and turn it around. You don't have to stay in infidelity and adultery.

What You Need To Do:
Be a strong woman. A woman who respects her body and her soul enough to get out and stay out of destructive relationships.
Be someone who doesn't melt to the lustful words of a lost man who will leave you the moment he gets homesick for his previous life and his actual family.
Repent, and ask God for forgiveness and healing.
I want to be the one who tells you – you can do it. You ARE strong enough to get out now.
There's no reason not to, and every reason to.
I'm rooting for you,
Tiffany