Dear Mama with PPD,
Postpartum Depression is dark, nasty, mean stuff. Some days it seems suffocating. Other days it makes you feel nothing, just total emptiness. Other days still it physically aches and makes you wonder if, how and when you'll ever get better. Some Mamas can't take it, they hide it, they suffer in silence until it's too late.
Today that mama is NOT going to be you.
You're going to push yourself to do some things you know are best for you, even though you don't feel like it.
You can do it.
Talk to someone. Your husband, midwife, doula, your closest, most caring friend. Tell them you're struggling with PPD and what you're feeling. If it scares you, tell them that too. If you feel like you might be able to hurt yourself or your little one/s, don't be anywhere alone. Take baby to a safe place (crib, gated baby-proof room, pack n' play, etc), take yourself to a peaceful, quiet place nearby and get someone on the phone who will understand the seriousness of the moment.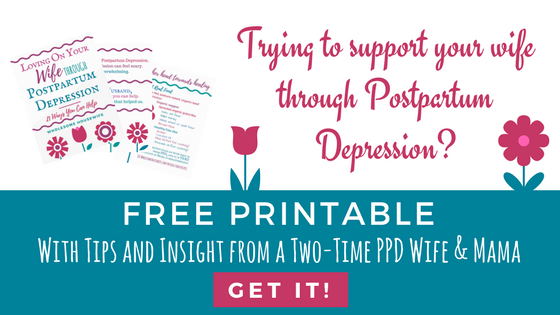 Your life is MORE than PPD. We just have to get past this part, and we WILL. It could be right around the corner. Don't give up yet.
So, as you wait for someone to come or for these feelings to pass, let's try some ideas that could help part those black clouds overhead.
Fight the Feelings

Force happy thoughts into your brain. Force them out of your mouth. Heck, yell them if you have to. These wipes make cleaning up poop easier! Cleaning up poop is easier than having a baby who can't poop! This kitchen has running water! And a stove and a refrigerator! I can do so much with that even if there are dishes everywhere and I can't stand the mess. My body may be sore and it's difficult to move, but I'm doing it! This pair of PJ pants is really comfortable (who cares that you're still in them). Baby cries the moment I put him down so I can't get anything done, but he loves when I am around and this season will be over before I know it.
Sometimes it's the little things that can help us break out of the darkness of PPD. Think of the things that used to make you smile, no matter how big or small. Keep thinking them, and keep trying to smile again.
Eat real food. It's harder, I know. But it'll head your body towards healing rather than away from it. I notice a huge decline in my outlook when I eat food high in carbs and sugars, and low in good fats and protein, especially starting the day. For example, left over Real Food Spice Cake for breakfast instead of sourdough toast, eggs and veggie hash (summer squash, zucchini and carrots grated then fried in coconut oil and real butter).
Throw a thawed whole chicken in the crockpot with an onion, couple carrots, salt, pepper, minced garlic (and rosemary and thyme if you desire) and cook on low for a few hours until done. Boil the sweet potatoes from the pantry, add lots of real butter, boil/steam/roast some frozen organic veggies. There's a delicious, fairly easy meal. For something quick, sweeten some plain organic yogurt with maple syrup or raw honey, add frozen fruit and some organic (unsweetened) peanut or almond butter. Or try this delicious breakfast smoothie.
Do something you like. If it's baking, ask hubby to take over the kids if he's home or let them sit in the living room and watch a movie, and make something healthy and delicious for dessert. Ask a trusted friend to come over and watch the babies so you can have a few moments to yourself. My sweet friend, when she's able, comes over for a couple hours a week to help with the babies so I can either write/blog or do household things that are otherwise pretty impossible to do with active, busy little ones. I can't tell you how stress-relieving it is to scrub the shower with the door to the bathroom CLOSED.
Sometimes it's the little things that can really refill your tank.
Go for a walk. I know how hard it is to lug a double stroller out of a vehicle and get it set up, and then add a diaper bag, water bottles and babies. It's worth it though. It's so good to get the littles and you out in the sun.
Learn about PPD and ways to support your healing. Get support wherever you can find it. Send this to your hubby. And this too so he can understand how to help you better. Draw a line and disallow people who judge and criticize you to be in the picture, at least for right now.
And pray. I know this is hard when you're in the depths of the darkness of PPD. So I'm going to pray for you. Read it out loud. Soak it in. Close your eyes and picture a loving Father wrapping His strong arms around you and protecting you from all the flaming arrows from the enemy.
Romans 15:13
May the God of hope fill you with all joy and peace as you trust in him, so that you may overflow with hope by the power of the Holy Spirit.
Dear Father,
You know my mind, You know where and why the darkness is here. You know how very much I adore my little ones and can't imagine life without them, but that I can't seem to shake this uneasy sadness. Father, You promised You would never leave or forsake me. Please show me that in my day to day life. Help me to realize that You're here and that You care and that You didn't die a miserable death on account of me only to go away and make me fend for myself down here.
Open my eyes, help me to see through this darkness to all the bright, joyful things You've put in my life. Help me to see the good, when all my mind wants to see is the bad. Give me motivation to take care of myself, my health, my body, my family. Help me to make good food choices and provide a way for me to eat what will heal my body. Give me the energy each day to take care of my littles and husband. Make them know that I love each one of them more than they could ever imagine.
This is such a hard, dark, lonely time, Father. Hold me, comfort me, get me through this so that someday I can even help another mama through this! I know that now I will be able to empathize with and encourage her, because You bring good out of even the bad things. I praise You that You know what's best for me, even if it means going through this time.
Lord, I love You and I need You. I'm waiting on You.
Love,
Your daughter