Sex Trafficking.
A horrible, despicable, disgusting thing that happens in other countries. Parents sell their children so they can eat. Orphans plucked off the street. Women without protection, family, or home lulled by the promise of a better life.
It's an evil that is rampant and diabolical and will someday, mark my words, be avenged by the Creator of the World. But it doesn't happen here. Not in America.
Right?
How I wish that were right. How I wish I could wipe it from the face of the earth, along with all the other ungodly, evil, heart-breaking things that take place this side of Heaven.
The last few weeks I've been watching my Facebook feed explode with accounts of suspected sex trafficking incidents – IN MY AREA. Not just my country. Not just my state, but in my general area. According to law enforcement, considering we are 'close to the border', apparently we have become convenient targets.
It's easy not to believe something like this. Until it happens to you.
I can't say for sure that what happened to me was sex trafficking, but I can say for certain it wasn't normal and there was something eerily wrong about it. The more I hear about the other incidents the more aware I become of just how quickly your life can be turned upside down if you are either unaware, too trusting or too preoccupied. Parents! Wake up! Stop walking around the grocery store glued to your phone, assuming that your 3 year old is tagging along behind you. Stop being so flustered by your Facebook, or family/friend drama, or how long waiting in line is taking instead of noticing the stranger who seems to be everywhere you are and has been watching your littles for the last half hour. Waking up NOW is going to be a lot less painful than afterwards when your arms are empty and the police are "doing all they can", but have little to no leads.
A few weeks ago, while Hubby was at work, I packed up my one year old and drove to our local, out in the middle of nowhere, Amish store. I have a routine of what food I get where, depending on the quality, price and convenience. At this store, I needed to stock up on lots of 'heavy' stuff like butter, raw cheese, meat, local honey and/or maple syrup. That's hard to do with a 1 year old, so I buckled him in his stroller and packed items where I could fit them. This particular time it was semi-busy, so there was lots of bustling going on around the store. For some reason, my senses were alerted around two tall, slender, middle-aged white men holding a couple small items each. I felt watched and uncomfortable. One had scars or a birth mark all over his face. As I made my way around them, he stopped me, ooing and awing about how cute my baby was. It felt odd as normally I would get that from kids, other mamas, or older women reminiscing when their baby boys weren't 6'2 and 220 pounds. Men usually just ignore us, or at most smile, state a quick compliment and go on about their business. I acknowledged the compliment with a smile and moved away as he stood there watching us. After that, they seemed to be everywhere I was, just hanging around and browsing. I quickly decided I was done and got in line.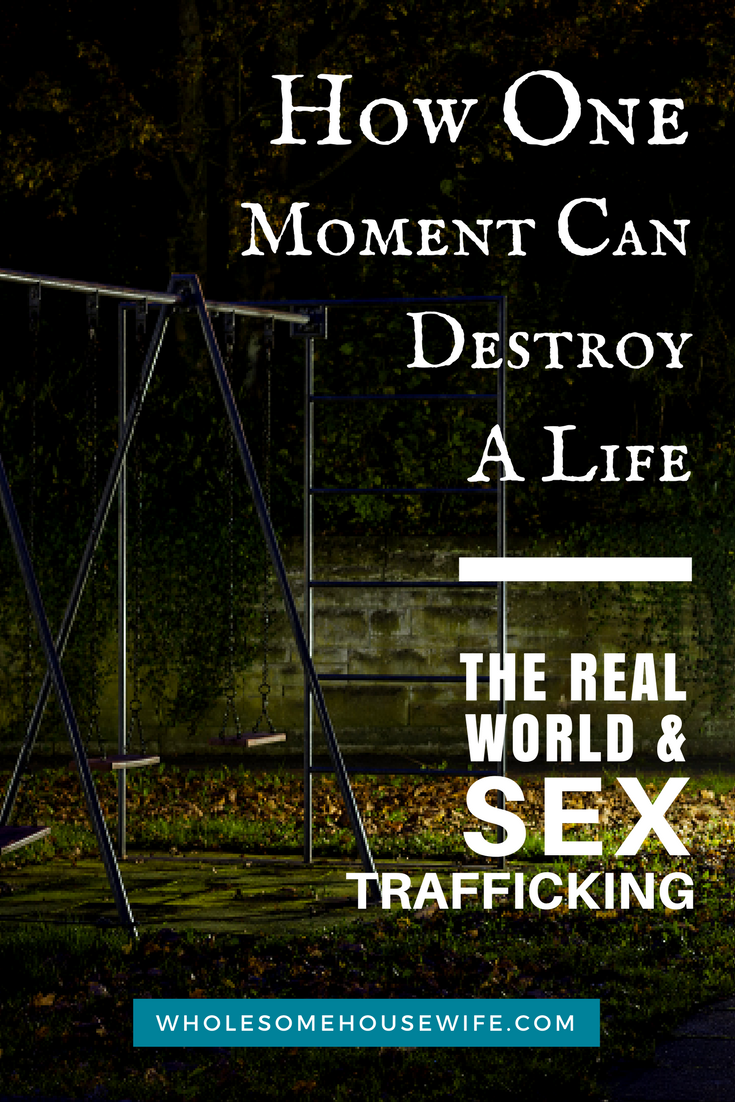 Suddenly they were right behind me, the man with scars still ooing and now asking questions – what's his name, how old, etc. He tried stroking his hand. My sweet little charmer pulled away, looked at the guy, looked at me and started loud bawling. What does that do to a mama who's already uncomfortable with the situation? That paired with how close the other guy was standing behind me made me move to be a barrier and stand beside the stroller. At this point the hair was standing up on my arms. I paid and walked quickly to the truck. By the time I had him in my arms, they were again right behind me, and I realized they had two vehicles – parked on BOTH sides of our truck. They stood right behind the truck for a few minutes, just talking. At that point I made eye contact with the man with the scars, so he was fully aware that I was aware of him and unhappy with his presence. I contemplated walking back into the store, but that moment was when another large family came walking over to the vehicle next to their car. He met my gaze, then jumped in the unmarked white van on my right side and took off. The other man got in the smaller hatchback and also left.
I got Baby buckled in, the groceries and stroller in, and sat there in the parking lot with the A/C on and doors locked, trying to get my heart-rate to slow down, contemplating what just happened. I don't know that it was anything. Maybe it was just a couple of guys that met to get curds and trinkets at the local Amish store. I don't know. What I do know is, in the weeks after this incident, there were several accounts from young moms with young kids locally, at Target, at Walmart, at large bulk stores like Sam's/BJ's – involving two suspicious white men and an unmarked white van.
And what I do know is that if this WAS something and I would've just assumed that these were normal, trustworthy people, thereby not having my guard up, there were a dozen different moments where our lives could've been turned upside down.
Moral to even telling this story… You don't know who people are. Sometimes you don't even know who they are when they've been friends for ages. But God knows their heart and we can trust Him. He did not create us to live in fear (2 Timothy 1:7), but He trusted us with these precious babies and it is our JOB to be vigilant. Discerning. Ever-watchful for and over their safety and care. Don't go out in public with your guard down, expecting that you're going to pull back into your driveway tonight with your fussy, crazy, amazing toddler in the back. I believe as soon as we take for granted what we have is when we are most open to losing it.
God help us to be aware, strong Mamas and Daddies. Dear God, help those parents who are suffering with this fate, and help and protect those innocent littles who were stolen from their homes and loved ones. My heart breaks just thinking of their heartbreak.
Please know I'm NOT saying this only happens to ignorant, uncaring parents. This can happen to ANYONE. We need to do and be everything we can be RIGHT NOW to prevent it on our end. God help us until the day He returns to avenge the innocent and wipe every tear away from the faces of His believers.