This is another thing no one tells you about when you get pregnant.
Your ab muscles are going to split apart.
There I said it. I'm sorry. I know it sounds awful, and harsh, and gross. But it's something we mamas have to deal with and it's best to know about it so we can face it head on. According to Professor Google, 37% of first time mamas and 67% of mamas who have had multiple pregnancies have a separation. I'm one of the 67%.
After my first baby, I no doubt had an issue. My low back HURT. Like worthy of tears hurt. I felt like I couldn't stand right and standing for very long was miserable. After the initial 6 weeks, I still looked 3ish months pregnant. I did have 10 pounds to lose yet to reach my pre-baby weight. That will take care of it.
Wrong. After several more months passed, without dieting or any extra exercise (on top of lugging around a super fast growing, solid little man), those ten pounds fell off. Like literally one day they were gone. Yet, my belly was like a best friend – by my side through everything. Well, my front. You know what I mean.
I had researched the MuTu program at the time and really, really wanted to try it. Idk how many times I brought it up to Ryan. Then next thing we knew, I was pregnant with our sweet baby girl. That pushed MuTu to the wayside, yet reaffirmed my sincere pelvic floor/abdominal wall issues with 2 separate ER visits, each at 4 in the morning.

Fast-forward about a little over a year. 3 months postpartum with Baby #2, I again have the bad back pain, 3-4 mo prego belly, weak muscles and feel unable to support myself. The pregnancy shirts with the ruching weren't fooling anyone anymore. It was time to do something.
I can't tell you how excited I am to finally be starting MuTu. Just as Hubby is doing a series of posts on the blog for those of you who are beginning bloggers, I will be doing updates as we go along the 12 week program, hopefully to give you a good idea what it could possibly do for you should you invest in it/yourself, too.
*This post contains affiliate links in order to make Wholesome Housewife possible. To read some boring stuff, see my disclosures. If you enjoy the site, and happen to love the products I recommend, please click my links. Your cost won't change, however WH will receive a small commission of the sale.*
Workout
So we did the first workout yesterday (Hubby is following along figuring it at least won't hurt him).
There are several videos you MUST watch first, but they were interesting and educational and rather enjoyable to watch. Wendy's British accent is addicting, she adds touches of laugh out loud humor (I do tend to laugh more when I'm overtired and it WAS 6am, ha) and she speaks/explains very well. I won't name names, but there are some well-known fitness gurus that make it really hard to listen to them with a straight face.
The first week seems generally low key, as we're relearning how to communicate with muscles that have decided to ignore everything the brain tells them to do, but I'm excited to see what this holds.
Diet
We've already had tons of experience and education learning about real food and what's in certain foods or food-like items. So we're pretty set that way; however, we will use her food guide for ideas.
Here is yesterday's menu:

Breakfast
Smoothie – coconut milk, wild blueberries, collagen hydrolysate (for protein and gut health), organic peanut butter (peanuts, salt), local raw honey, lemon juice, water (until the right consistency)
Lunch
Leftover sprouted brown rice with crockpot (local, pasture raised) chicken thighs
Mini cucumber, organic celery with Real Salt
Snack
Spelt roll with butter (I couldn't help myself)

Dinner
Homemade Organic Spelt roll with sugar-free Sloppy Joes
Organic oven fries
Organic frozen broccoli
Snack
Madhava Brownie (mmm, ok this is a healthy indulgence. It's real, non-GMO sugar and coconut sugar, but still sugar. One step at a time.)

Starting weight: 158
Pre-pregnancy weight: 144
Goal weight: 135-140

Waist Measure: 35.75″ (1″ above belly button)

Hip Measure: 40.5″

So, being this vulnerable with sharing all my 'numbers', I figure why not share a picture? 😉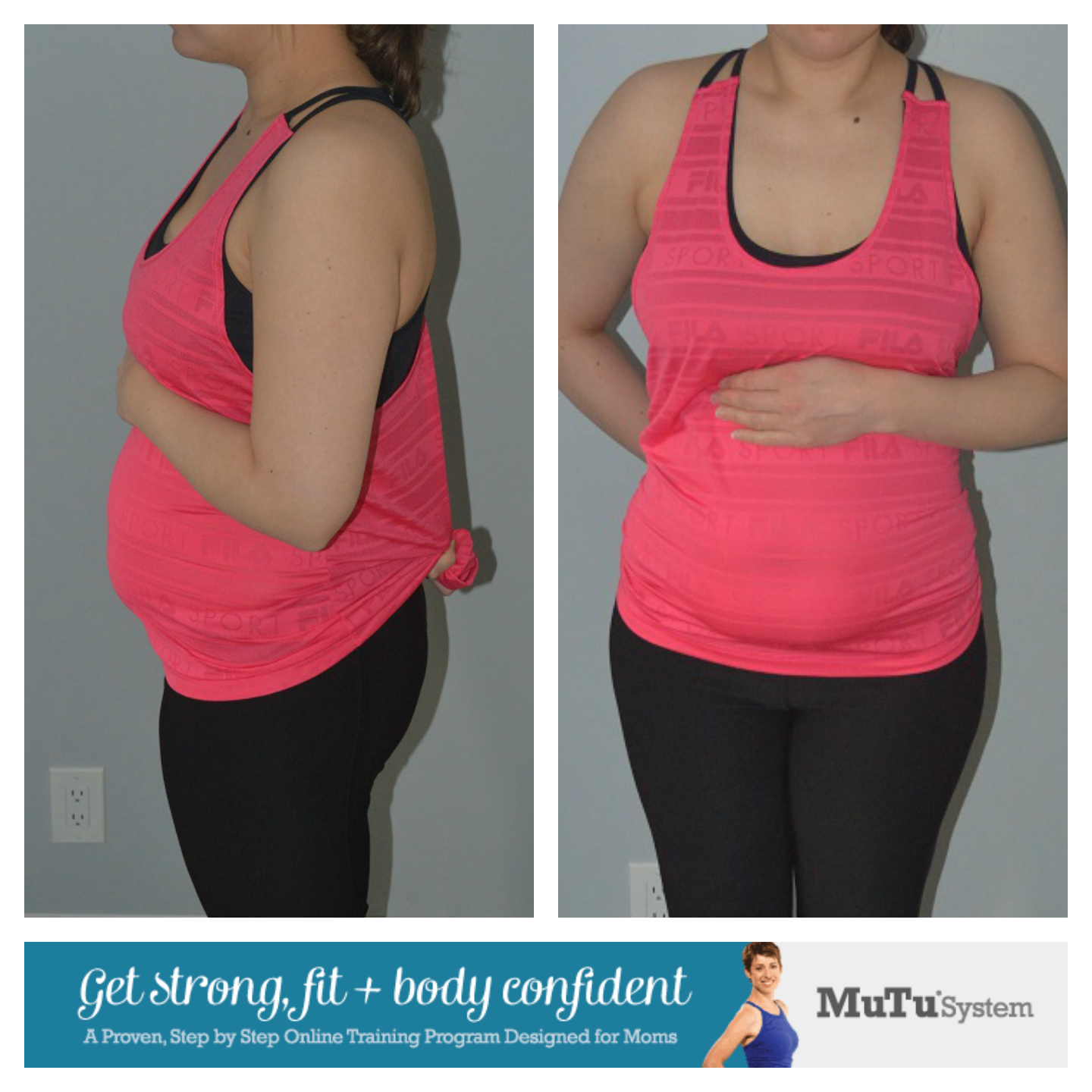 I would love to hear from you if you've done the MuTu program before, or if you're interested in starting it yourself and would like to know some specifics about it. Drop me a line or comment below. 🙂 Wish me luck on this journey! I'd love to do it with you!