This whole pregnancy has been a whirlwind of busy, crazy and more crazy busy. Finish the baby's room, which was nothing but cruddy floor and studs. Check. Keep up with work through 24/7 nausea, losing 10 pounds in the first trimester, extreme exhaustion, headaches, daily nosebleeds and fatigue. (I only missed one day). Check. Keep up with church things, and hubby adding more and more to his schedule. Check. Meet with our midwife and doula regularly. Check. Get started on half bath between our and baby's room. Check. Take time for ourselves. Uh… not check.
Pregnancy, whether it's your first or 15th, changes things. It brings so many changes during the process and it definitely brings huge changes for after. It's important to make sure your marriage is rock-solid before rolling through or with those changes.
So hubby booked us a weekend away. Friday, April 17th, we left for Atlantic City!
Now I want to state right away, I didn't know Atlantic City was a gambling town. Hubby didn't know it either. We didn't know it at all until my sis-in-law mentioned it in a text 20 minutes outside the city and we got to see the skyline featuring the smorgasbord of casinos surrounding our resort. Nice. We were determined not to let that ruin our trip.
The view from our room was breathtaking.

I could just jump back in that picture right now, lay on the bed again and soak up that view. If only.
We went to find food, and came back to the resort to watch cable. (We don't have cable, so what a treat!)
Hubby took some night pictures of the boardwalk.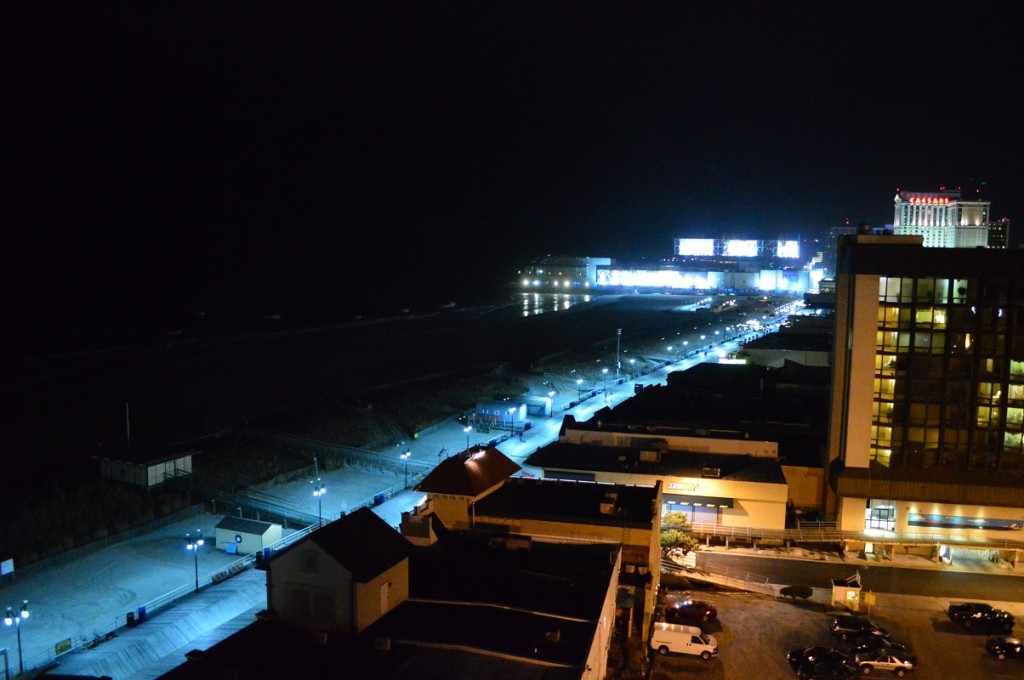 And isn't this one sweet?? Hubby caught this couple walking hand in hand on the boardwalk. I adore seeing couples walking along like this. It reminds me that no matter what your age or how long you've been together, you can be just as much in love at day 1 or 60 years. 🙂
The next day we walked. And walked. And walked and walked. We walked one way on the boardwalk, and we walked the other way on the boardwalk. We walked out to the parking garage to our car which was 85 floors up (no elevators). We walked back to the resort which was 85 floors down (remember, no elevators). We walked around the outlet mall, and to lunch. I think we put in 20 miles. At least that's what my poor feet and legs felt like. We walked so much, I hurt the top of my right foot. 13 days later it's still trying to heal.
One thing to take note of if you're ever planning to go to Atlantic City – you can't park anywhere for free. Literally, anywhere. To park at a store, it costs you. If you want to go just to drive around in circles and look at things, you'll have a great time! But if you actually want to get out of your car to eat, or maybe stretch your legs, or go to the outlet mall that's intertwined throughout the city, plan on paying between $5 and $20 – depending on how far you are from and if you're going to walk or run to your destination. 😛
For supper that night, I stepped foot in my first ever casino. Borgata's has a buffet that locals rave about so we had to try it. We stood in line for over an hour. I wish I had a picture. People everywhere, standing between dividers, slowly shuffling forward towards a cash register that was waiting to take lots of their money. It was funny, but then not, considering we were two of the people in that line. 😛 The food was very good tho. It was the nicest, biggest buffet I've ever been to and Ryan ate so much he thought he was going to explode. For hours. Like six. Btw, it was so big we had to WALK more to get to the numerous different stations.

Walking through the casino part to get to the buffet was saddening. There was so much smoke and alcohol everywhere. The waitresses outfits left nothing to the imagination. People frustrated that they lost, people trying to make it big so they could live again. The flashing, bright lights of all the machines reminded me of a fly-catcher for humans. And it reminded me of 1 Timothy 6:10 "For the love of money is a root of all sorts of evil, and some by longing for it have wandered away from the faith and pierced themselves with many griefs.". (Note the love of money is the root, not money itself.)
After we ate, we went back to the resort and walked some more. Thinking about it now, I don't know how I did it, but my legs kept going like the energizer bunny (thankfully). It was in the 60s still so it was a nice night to be out. And I will admit right now, we had ice cream. Bad ice cream. Cookie dough ice cream. In a cone. O.o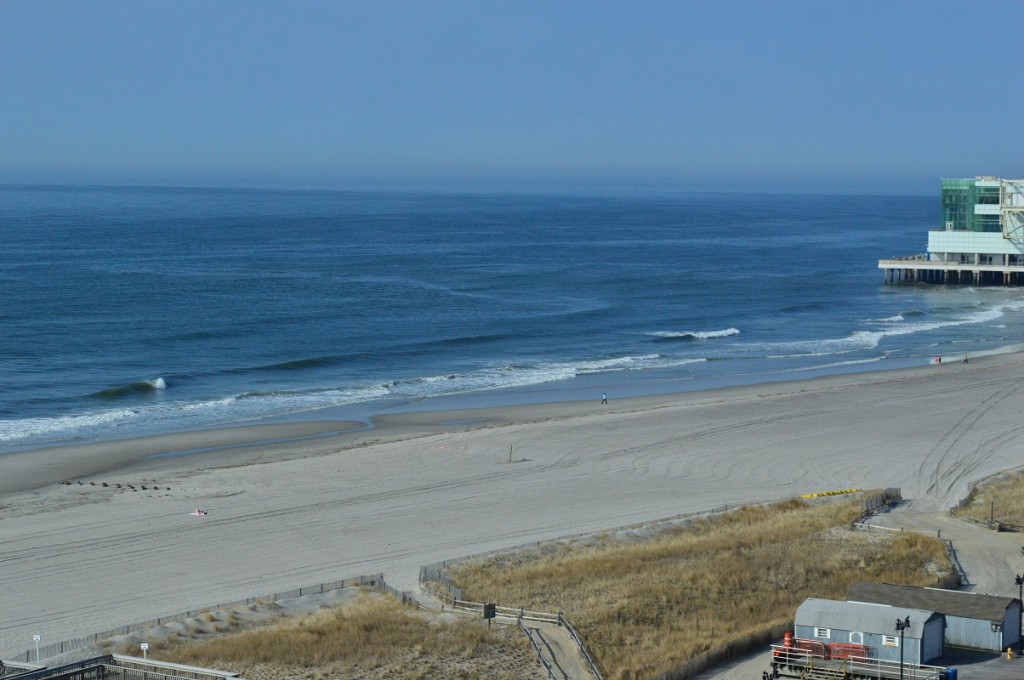 This is what we woke up to Sunday morning, the day we had to leave. It was a short, short trip, but it was full, and it was fun. I didn't think (too much) about what was coming next, or what we had to accomplish when we got home, and I got to spend the whole time with the love of my life. 🙂 We bought the electronic battleship game for more than 50% off at the toys"r"us outlet, and we ate really good food, and we walked hand in hand like the two lovebirds that we are 😉 and we watched TV together. What could be better?
On our way out of the parking garage we saw this. We had to back up to get the picture. It was that worth it.
Now… either that little neon is super water-tight and spent a looooong time crossing the ocean or someone spent a boat load of money getting their cheap car shipped 4,894 miles from Hawaii to New Jersey. I am still laughing.
So that was our babymoon. I cried coming home. It's a little overwhelming facing real-life again, once you get to step out for two seconds.
Did you take a babymoon (even if it wasn't called that then!) when you were expecting?
If so, where did you go and what's one of your best memories from it??